The two chart recorders on the left using a seismic amp (rectangular box above CRT) designed and constucted by my son Stan, record the 7.5 magnitude NORTHWEST OF KURIL ISLANDS earthquake on 11/17/02. A computer with a 2 ghz cpu stores the earthquake data with the use of Larry Cochrane's WinSDR data logger. Larry maintains the Redwood City (Calif.) Public Seismic Network (web address near the bottom of this page). The computer monitor shows the traces of the quake from my two seismic sensors [modified Lehman (FC1) and T Max (FC2). Traces from a vertical sensor, FC3, are not shown. The wooden enclosure on the right is a speaker for WWV time signals, variable resistors to control amplification for seismic signals and a galvanometer to monitor the output.

---
The Modified Lehman --- Continuously in Operation Since January, 1997
---
The Sensor Cover
The Seismograph sensor is housed in a cover made of Celotex to keep out unwanted drafts. Two see-thru plastic windows have been incorporated in the top. The sensor, which I constructed in January, 1997, is in my garage.
---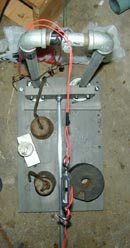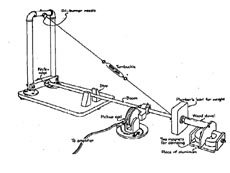 A View of the Sensor(FC1)from Above.
The weights are kept on the base plate to keep it from tipping over.

The drawing on the right was taken from an article in Scientific American published in July, 1979, in The Amateur Scientist column. My Lehman was modeled after this article. I have modified a few things. Dampening of my Lehman is accomplished with brass paddles in power steering fluid and not with magnetic dampening. I have mounted the pick-up coil at the end of the boom. The original Lehman did not mount the pick-up coil on the boom. The original Lehman article can be found at "Build Your Own Seismograph Station."

---

The Pivot Point
I am using John Cole's method of inserting a ball bearing at the pivot point of the boom. The ball bearing in the boom end rests upon a polished bolt head. By eliminating a major part of the friction at the pivot point, the period of my Lehman pendulum was increased from 12 seconds to 16 seconds.
I had obtained the 12 second period by grinding the boom end to a point and then inserted it into a V shaped indentation in the bolt head. John Cole has made a significant contribution with his method.
---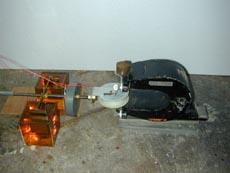 The coil Moves in the Gap of the Magnet